Lovin' ur
LIPSTICKS?
Me? YES!!
Whether they want to admit it or not, most women look better when they wearLIPSTICK.
That single pop of color, done in the right shade, does more to accent a woman's facial features than any other makeup product. SO, I started to collect different brand of lipsticks.
Here are some of my lipsticks...
L-R: NYX Power, NYX Narcissus, NYX Paris
These lipsticks are
NYX ROUND LIPSTICK
that I bought from
GetSophisticated Onlineshop.
here's their link: ( they ship WORLDWIDE )
http://www.facebook.com/getsophisticated.onlineshop
Nowadays, many online shops are selling NYX Round lipstick,
but this shop selling their nyx round lipstick in CHEAPEST price ever!!
They sell it only 160php each.
As you can see I LOVE PINK SHADES.
I use pink shade lipstick most in my everyday makeup. :)
Here's the swatch for my NYX Round lipsticks..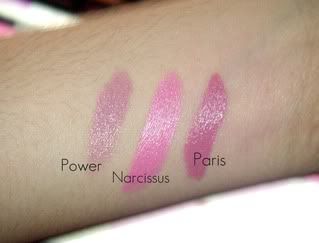 And here's my short review for each shade of nyx lipstick..
NYX LSS 629 Power: matte, a pink with purple undertones.
This is the type of lipstick when I want a more dramatic daytime look. It is also a great shade for nightime but will not give you that bold lip color.
NYX LSS 509 Narcissus: a bright barbie doll pink with blue undertones.
It can be worn with medium dramatic eyes. It is not the type of colour I would pair with a dark smokey look though.
NYX LSS 620 Paris: not so bright pink. It has purple undertone in it.
It's great for every day otherwise or even a night out.
These lipsticks are extremely moisturizing and very creamy~
you can apply it for moisture when your lips are feeling dry..
It is also rich and pigmented that it can cover my natural lip color completely without the help of lip concealer.
I've worked on these lipsticks into my everyday makeup routine and they areAMAZING!!
I definitely recommended this product for everyone.
Here's my other brand of lipstick but still in PINK SHADE.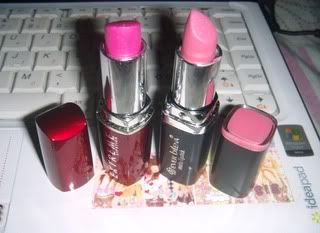 These lipsticks are bought from
EVER BILENA
.
I think this product are found only in the Philippines.
These lipsticks are very CHEAP yet really AMAZING!
They sell it about 100+php. ( I don't remember the exact price. :| )
The red packaging lipstick are different from the black ones..
The red one is called, Ever Bilena EXTREME LIPSTICK, and
The black one is called, Ever Bilena MATTE LIPSTICK.
Here's the swatch for the Ever Bilena lipsticks..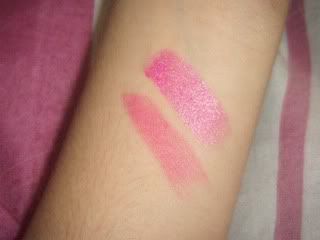 The brighter pink is the
Ever Bilena EXTREME LIPSTICK
and
The matte pink is the Ever Bilena MATTE LIPSTICK.
You can purchase them at Watsons, Landmark, SM department store or any malls nearest from you.
And lastly, here's my NUDE lipsticks.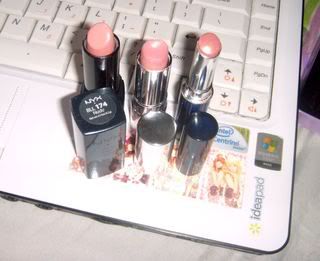 L-R: NYX Black label Nude, KATE lipstick ND BE-4, SELFIT beige 301
As you can see they are in same picture but not in same brand.
The lipstick in the left side of the picture is NYX Black Label NUDE.
I bought it from one of the NYX outlet in japan.
I don't remember the price but in official nyx cosmetics site it cost USD7.50 each.
This lipstick is extremely creamy and so pigmented.
This goes on really chalky and emphasizes every little flake. If you really rub it in with your finger afterward, it looks ok, but if you just smear it on from the tube it is a disaster. So very difficult to wear.
Next, the lipstick in the center of the picture is KATE lipstick ND.
I bought this also in japan and it cost JPY1000 each.
This one is in matte effect. I usually mixed it to other pink shade lipsticks that I own so that it will become
matte pink finish look afterwards.
Lastly, the SELFIT lipstick.
I bought this also from japan and this is the cheapest lipstick that i bought from there.
This one gives you super natural nude effect and super moisturizing lipstick.
This one can be the best everyday use nude lipstick among the two other nude lipstick that I own. :)
--------------------------------------------------------------------------------
I DEFINITELY recommend all the lipstick that I discussed above,
So feel free to try them. Don't hesitate to try one of those lipsticks
especially the affordable ones..
Hope you like my short review! Good luck everyone~ :D