Last week, while browsing my twitter page Anna from Fenua Beaute told me that I won her giveaway sponsored by Shoppingholics!! That was my first time that I won a giveaway!! I was soo HAPPY that I'm one of the winner of their giveaway!! XD
Then finally I received the prize yesterday!
Here's the package
Inside..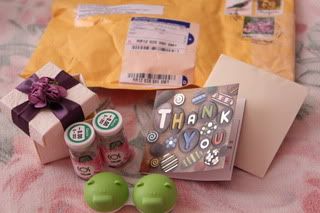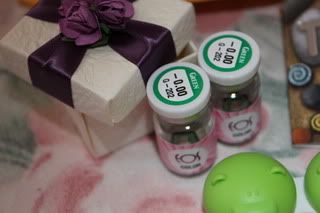 I super love the packaging!!
It comes with a cute little card from Shoppingholics, a cute lens case, & of course, my pair of lens. I received Candy Magic Barbie King Size Circle in Green.
Here's the lens that I received..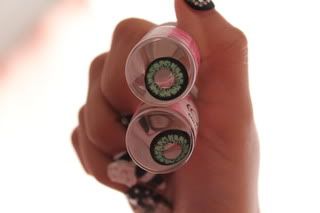 (w/o flash)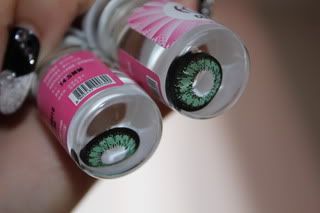 (w/ flash)
I was soo excited to try it so I decided to use it in the next day after I received it. :p
Here's the lens when worn,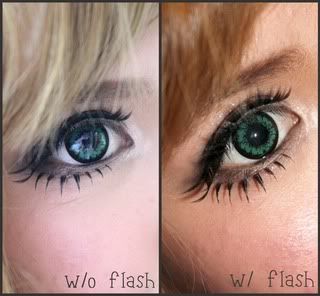 Color: 5/5 I super love the color!! the color shows up very well and it doesn't change after you wear it. Some lenses changing their color after you wear but this one is great!!
Enlargement: 4/5 They did enlarge but since I really like to have bigger eyes, I need to add some falsies to enhance the enlargement of it. But if you like a natural look this one is great too.
Comfort: 5/5 They are soo comfortable to wear.. I used it about 5 hours and soo far it feels good into my eyes.
Overall: 5/5 I really like this lens!! especially if you like ギャル style. This kind of lens are very typical to gyarus. If you know Sakurina from Ageha Magazine & Tsubasa Masukawa you will notice they wearing the same series of lens.. everything from this lens is soo great! So I recommend this lens to everyone~ They look so pretty when you wear it. Perfect for spring!! I love this lens <33
Thanks to Anna & Shoppingholics for choosing me as one of their winner & for that such wonderful giveaway!!
You must check Anna's Blog here - http://fenuabeaute.blogspot.com/
And Check Shoppingholics site - www.shoppingholics.com
(They sell different kind/series of lenses in great deal in outstanding quality..)
I hope you like my post..
See you on next blog~
Xoxo,
Khaori.